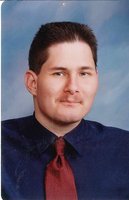 Justin Horton
September 27, 1981-September 23, 2017
Justin Lee Horton-Tomaszewski was called home to God unexpectedly on
Saturday September 23, 2017 in Glendale, CA.
Justin was born in Honolulu Hawaii at Tripler Army Medical Center on
September 27, 1981. He was raised in Fairfield, CA and attended Armijo High
School until he moved to Hillside House in Santa Barbara. He later moved to
Simi Valley and then to Glenridge Center Care Facility in Glendale, CA.
Justin had an immense love of anything Bugs Bunny and Looney Tunes. He
could tell you every detail of every Looney Tunes cartoon ever made. He loved
going to Dodger baseball games, McDonalds and going out in the community
where he participated in a day program with Easter Seals.
Justin touched the life of every person he met. He found so much joy in talking
on the phone to his family and friends every day. He was always so happy
when he spent time with his family and we will miss him every single day.
Justin was almost 36 but his mind and heart were pure, innocent and full of
child-like love that was untouched by our adult world. His smile shined bright
on everyone he loved. He truly is our beloved Angel.
Justin is survived by his mother Bren Tomaszewski and bother Dominick
Tomaszewski of Ventura CA, his dad Edward Tomaszewski of Santa Rosa CA,
his Grandfather Chuck Hartke of Ventura CA, his half-brother Shawn Horton of
Portland ME, his Aunt and Uncle Cindy and Robert Tomaszewski of Simi
Valley, his Uncle Bryan Hartke of Willits, CA., his Uncle Bruce Hartke of
Vacaville CA as well as numerous cousins, extended family members, friends,
teachers and caretakers whom he loved and cherished.
Justin was preceded in death by his Grandmother Vera Hartke.
The family has decided not to have a service but will have a celebration of life
at a later date.
Arrangements by Rose Family Funeral Home of Simi Valley