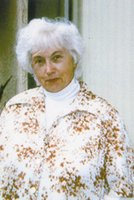 Catherine Agnes Curry
Catherine "Katie" Agnes Curry, 90, Simi Valley, CA, passed away on September 22, 2017 in Simi Valley, CA.

Funeral service will be held at Rose Family Funeral Home on Saturday, September 30th at 10:00am with Deacon Melecio Zamora of St. Peter Claver officiating. Rose Family Funeral Home will be handling the funeral arrangements.

Catherine was born in Rochester, NY to Anthony and Mary Marrone on January 28, 1927. She went to high school at East High School in Los Angeles, CA. She worked as a Project Manager for Glenaire for more than 30 years. She enjoyed going to the movies and playing cards.

Catherine is survived by her son, Henry of Simi Valley, CA, grandsons Trevor and Michael Curry of Oak Park, CA, sisters, Janie Merenda and Theresa Laney. She is preceded in death by her son, Anthony Curry, sister, Eleanor Fontana, brothers Vince and Bill Marrone.

The family wishes to extend their gratitude to Simi Valley Care Center and Vitas Hospice for taking care of Catherine during her final days.