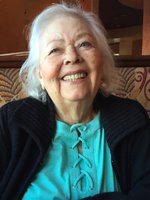 Joan Lee Group
Joan Lee Group of Citrus Heights, California, passed away peacefully and surrounded by family on September 30, 2017 in Simi Valley, California.
Joan was born on March 10th to Dorothy and Joe Pierson. She graduated from Belmont High School in Los Angeles and went on to work for the Simi Valley Unified School District as well as owning a successful accounting business.
Joan is survived by her husband Dave, children Debra Bernhardt (Mark) and David Antillon (Kristen); grandchildren Alyssa, Amanda, Tyson, Kayla and Matthew; great grandchild Charlie; sister Mary Lavelle and many nephews and nieces.
Born in Hollywood, California, Joan also lived in other California cities, Utah and Nevada. She always considered Simi Valley to be her home as that is where she and Ralph Antillon started their family.
Joan's sense of humor and laughter were contagious. A gracious host, Joan's home and heart were always open for guests. Taking care of her grandchildren gave her the greatest joy because family was the most important part of her life. Cooking was a passion and her fare would never disappoint, especially her delicious Christmas candy. Joan spent her life helping others and will be remembered fondly by many.