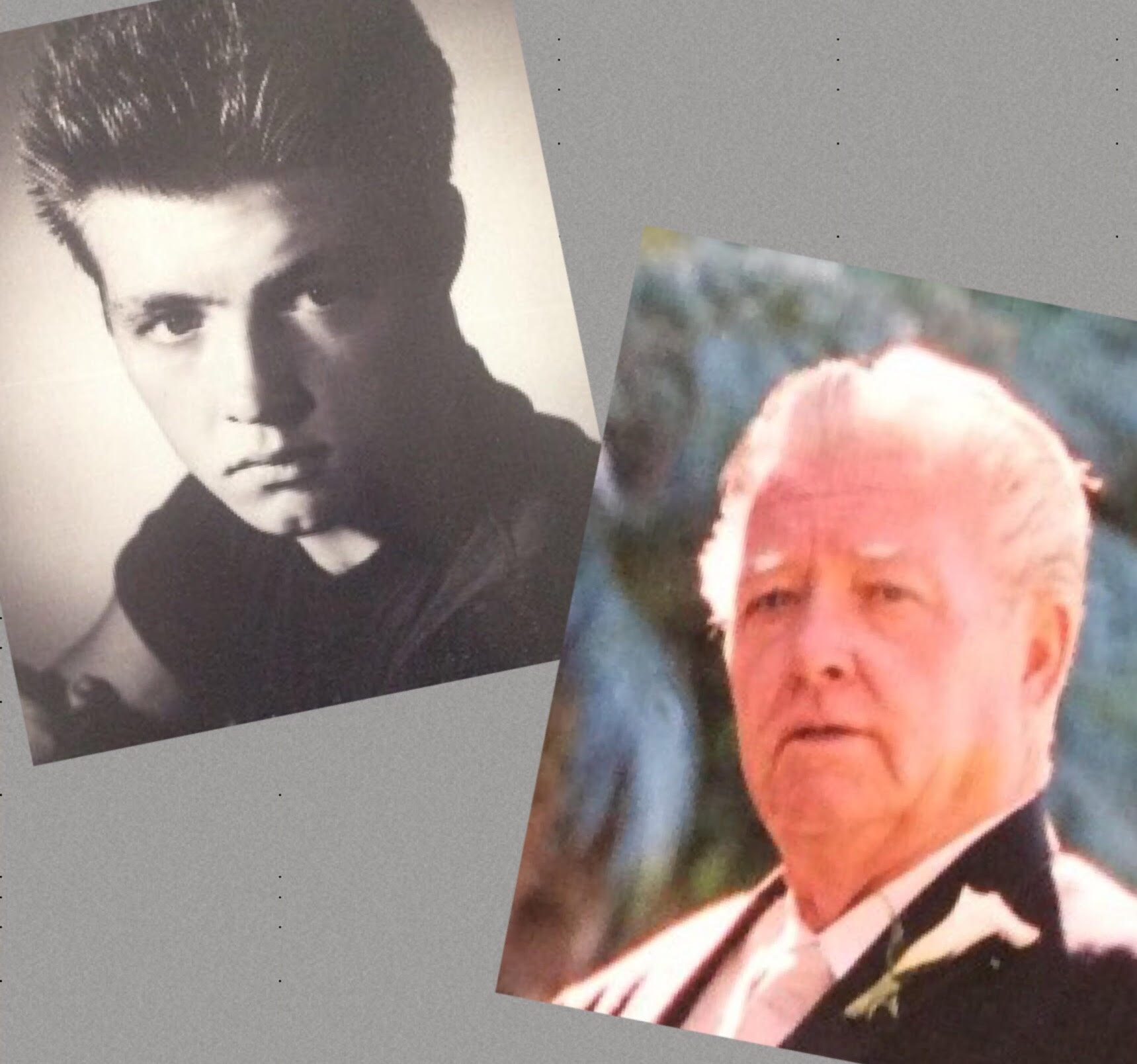 Gordon Duane Nowlin
Gordon Duane Nowlin of West Hills, CA, passed away on October 2, 2017 and was interred with his beloved wife Rosanne aka "Ronnie" at Oakwood Memorial Park Cemetery in Chatsworth, CA.
Duane was "better looking than Elvis and tougher than any character John Wayne ever played" if you ask many...Born on December 29, 1932 in Oklahoma City, Oklahoma to Gordon Leon Nowlin and Anna Louise Nowlin, much of his childhood was spent going back and forth between California and Oklahoma - as his sister Joy says "they'd cut their own trail from here to there".
A favorite memory from his school days (often told and told again, and again) came from 6th grade when he made the grimace on "mean old Mrs. Sprole's" face disappear, replaced with a lovely smile when he would sing the Star Spangled Banner for her. Between his looks and singing voice he truly could have been a film star but alas Gordon senior steered him away from what he believed would only corrupt him.
Duane worked as "chief dishwasher and potato peeler" as he called it, alongside his parents at the various restaurants they managed or owned...at least until he decided enough was enough and as per another of his oft-told tales, when at age 14 he took off on foot (took off versus ran away since he'd told his Dad that he was done peeling potatoes and was GOING, who told "Mama" to give Duane some money and saw him on his way)...hitch-hiking and doing odd jobs until he ran out of money and landed at an uncle's auto repair type shop in Fresno (Dad had called ahead and advised the Uncle he'd likely be seeing Duane's face when he got hungry).
He told stories of his dare-devil love of roller coasters at Craterville Park in the Wichita Mountains, ice-skating on frozen lakes, "busting broncos bareback", and diving off a variety of insanely high bridges (usually showing off for the fairer sex) and laughed about nearly giving his mother and aunts heart failure between these antics and pranks he liked to play like jumping out of trees in the dark.
Duane started logging with his Papa Nowlin when young enough that hanging onto a huge double-handled saw meant "taking a ride" and getting a scolding from Papa for not holding the ground at his end. That grew into a lifetime of logging, burl hunting and exporting, and of course the Arborist company he and Rosanne founded and partnered in for nearly their whole lives together...North American Tree Service.
He took special pride in the fact that he and Ronnie had literally built their own house after dynamiting through sandstone boulders in the mountains above the San Fernando Valley at what they'd know as their home for all of their almost 50 years together. It wasn't all that he might have wanted it to be, nor what it could have been but to them it was their castle where a pot of "cowboy coffee" in a glass percolator was always on the stove and ready to serve visitors anytime.
A consummate provider, Duane worked 7 days a week nearly 365 days a year, dates and calendars meaning little to him with Ronnie having to insure he would know when birthdays and holidays came along...Dad to Rachel, Takoa, and Athena and later Papa to Kyra, Skye, and Meila - Duane the tough guy, the growling bear, the great protector...melted when each were little. Athena recalls she'd always rather that Daddy dried her hair after a bath and that his talent at "top notch" hair do's were bar none.
He is survived by his children Rachel Hoolihan/Erik Hoolihan, Takoa Nowlin, Athena Shewbert/Jeff Shewbert, and grandchildren Kyra Hoolihan, Skye Hoolihan, and Meila Shewbert, all of Simi Valley, California. Also his sister Joy Murray and her husband Ray who call Sparks, Nevada home. Last, his daughter Vivian Osborne from a prior marriage and her sons Dustin and Travis Reed who all reside Alaska.