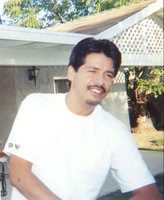 Francisco Sierra
Frank Sierra was born on April 4rd, 1949 in La Union, New Mexico. He passed away on Tuesday October 3rd, 2017 at Maywood Acres Healthcare in Oxnard, California, after a long courageous battle with cancer. Frank lived in Moorpark all his life and attended the local schools.
Frank is survived by his two sons, Arthur "Letty", and Anthony. He will be fondly remembered by his six grandchildren: Anthony, Desiree, Anthony Jr "AJ", Adriana, Luke, DeAngelo, and greatgrandson Rayden. Frank is also survived by brother Manuel (Margaret), sisters Margaret Rodriguez, Connie Chaves (Joe), Lucy Patino (Armand), Tilly Hubbard (Lynn), and Irene Bravo. He also leaves behind many nephews and nieces. He was predeceased by his parents, Epifanio and Maria Sierra, and brother-in-law Tony Rodriguez.
Frank enjoyed family gatherings and socializing with friends. He enjoyed his beer, lottery scratchers for himself and family, casino trips, and gardening. Frank also worked in manufacturing.
The family thanks Maywood Acres for all the care shown to Frank.
Funeral Mass will be held on Wednesday, October 18th at 10am at Holy Cross Catholic Church in Moorpark, CA.