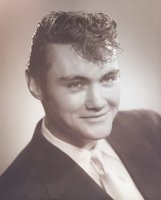 Fred Webber
Fred C. Webber
November 25, 1935-January 26, 2018
Fred C. Webber passed away on January 26, 2018 after a brief illness.
His gift to us will be the memory of the twinkle in his blue eyes, smiling mischievously, while telling a story. He loved telling stories. Not tales, but stories about life and happenings. He remembered details and incidents; he recalled events with clarity and with a measure of editorial zest. He told stories about his grandkids, about last week at the dentists' office, about trips to Costco, about Auntie Della and the farm in Minnesota. He rubbed his beard, tilted his head, and then began his story.
Fred was born in Hennepin County, Minnesota. His mother, Dorothy Mary Tepley, brought him to sunny Southern California where he spent his youth on motorcycles and beaches and where he would eventually marry Joyce Beverly Sharp. Fred's most defining trait was his love for "Joycie" (as he called her.) He cherished her and cared for her as if he were her prince charming. When she passed away four years ago, a part of him went with her.
Resourcefulness and loyalty were skills he passed down to his children and grandchildren. Fred could fix anything. He knew how things worked and was creative about restoring function to almost anything. Bertha, an early 1950's pickup truck, was the best example of that. Fred was attached to his truck. Bertha faithfully took him to and from work, through Grimes Canyon, every day for decades until they both retired. Bertha was not the picture of a reliable commuter car, but Fred kept her going, going, going. If duct tape and baling wire held it together, they were invisible to the eye—but they may have been obscured by everything else he kept in that truck.
Fred, literally, lived for his grandchildren. When his granddaughter, Beverly Jeanne was born 28 years ago, he flipped a switch, turning off drinking and smoking for the rest of his life. He changed his grandkids' diapers, fed them waffles, attended their sporting events, visited them, and told their stories to anyone who would listen. He was proud of everything they did.
Fred grew up mostly in Santa Monica and raised his family in Simi Valley, California. He retired from his career at the County of Ventura Public Works Department. He travelled to Mexico, France, Belgium and The Netherlands (Paris was his favorite) and spent time travelling to visit family in Seattle. He enjoyed camping with family and friends on California's Central Coast.
A memorial service for Mr. Webber will be held on Saturday, February 17 at 1:00 pm, at Rose Family Home, 4444 Cochran St., Simi Valley, CA 93063