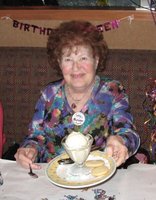 Arlene Rae Harrison
Obituary for Arlene Mack Harrison: 5/21/30-2/8/18
Arlene Mack Harrison, of Simi Valley, CA passed away peacefully on Feb 8, 2018 of complications after a
broken pelvis. She is survived by Fred Harrison, her devoted, loving husband of 50 years; her son, Steven
Pearl; her daughter, Wendy Pearl Karanfilian; her son-in- law, John Karanfilian; and her two
granddaughters, Amy Karanfilian and Zoe Karanfilian. Arlene was born in Lincoln, Nebraska, and raised
by her grandparents in Minneapolis, MN. After a brief stint in Boulder, CO, Arlene moved to Los
Angeles, CA with her first husband, Philip Pearl. She's lived happily in Simi Valley with Fred for over 30
years, where she spent her time golfing, acting as President of the local Simi Valley Women's Golf Club,
seeing friends, visiting her family in Northern California, and traveling with Fred to places like Hawaii,
Seattle, Vancouver, and Minneapolis. A memorial service will be held in her honor at Rose Family
Funeral Home, Simi Valley, on Saturday, March 24, 10:30 a.m.