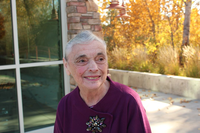 Margaret Mary Rose (Nafziger) Desrosiers
Margaret Mary Rose (Nafziger) Desrosiers, 83, passed February 11, 2018, at home in Simi Valley, CA. Marge was born on July 2, 1934 in Spencer, SD, the youngest of eight siblings, to Chester and Elsie (Sauer) Nafziger; her family moved to the Black Hills Ordnance Depot in Igloo, SD, in 1943; after graduating from Provo High School in 1953, she moved to Denver, CO and graduated from Loretto Heights College in 1955.
On July 2, 1963, Marge was united in marriage to Donald Edward Desrosiers at St. Mary's Catholic Church in Spencer, SD, eventually settling in Simi Valley where they have spent 50 years in this Ventura County community.
Marge is survived by her husband of 55 years, Donald; her five children, Paula, Carla Sage, Donna, Mark (Nita), Mathew (Stacey); 13 grandchildren and 1 great grandchild, all of whom were the loves of her life and in whom she took much joy. She was preceded in death by her parents, Chester and Elsie Nafziger; her sisters, Norma Stockdale, Arlene Mossman and Nanette Cox; her brothers Frank, William, James and Daniel Nafziger; and her granddaughter, Hope Desrosiers.
Rosary will be Thursday, Feb 22, 7pm, at Rose Family Funeral Home, Simi Valley; Memorial service will be Friday, Feb 23, 11am, at St. Peter Claver Parish, Simi Valley, followed by a repast at the church hall.