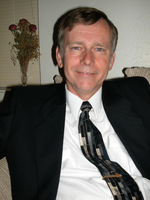 Gerald Nielsen
Gerald (Jerry) Dwight Nielsen, age 70, of Simi Valley, CA, passed away February 15, 2018 after an 18 year battle with Alzheimer's.
Jerry was born October 19, 1947 in Burbank, CA to Harvey and Wilora Nielsen. He grew up in Los Angeles, CA and later served an LDS mission in the Pacific Northwest. He married his sweetheart Donna Jeanne Burgess on July 28, 1972 in the Los Angeles, CA, LDS Temple. Jerry graduated from the University of California at Long Beach and worked as an accountant for Burroughs Corporation for 4 years and then Anheuser Busch for 27 years. He was a fun, kind, intelligent person who enjoyed telling stories and making people laugh. He had a playful personality and loved spending time with his children and grandchildren. Jerry loved the outdoors and had many passions in life, including gardening, camping, hiking, and painting. He was always fixing and improving things around the house. Jerry was an avid collector of many things. He particularly loved collecting reptiles, Olympic pins and stamps. He was known for his hut full of snakes, lizards, rats and mice. Jerry served faithfully in his church and community as a Scoutmaster, Ward Clerk, and Ward Financial Clerk. He had a contagious enthusiasm for genealogy and loved to share stories of his ancestors.
Jerry is survived by his wife Donna Nielsen to whom he was married for 45 years, and five children: Linda Porter (Dwayne), Matthew Nielsen (Melissa), Rebecca Rasmussen (Greg), Kevin Nielsen, and Eric Nielsen (Kari); plus 12 grandchildren: Blake, Julia, Lauren, Aubree, Kate, Tyler, Bailey, Todd, Audrey, Alice, Emma, and Lily. He is also survived by his brothers Ronald and Richard Nielsen, and sister Sharyn Muzik along with many nieces and nephews. His parents Harvey and Wilora Nielsen preceded him in death.
He was loved by many and will be greatly missed. Funeral services will be held Saturday March 3, 2018 at 11 am at the LDS Township Chapel (3979 Township Ave, Simi Valley, CA 93063), preceded by a viewing at 10:00 am. Gerald will be laid to rest at Oakwood Memorial Park.