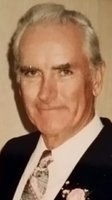 Vincent Joseph McDermott
Vincent Joseph McDermott was born in St Joseph Michigan on 12/20/1927
He was an World War II veteran serving in the Philippines. After the war he worked for National Airlines for several years and also driving for the MTA.
In 1952 he married Rosemary Toth and they had Michael, Vincent, Bernard, Elizabeth and Kevin.
He leaves behind Bernard, Elizabeth and Kevin McDermott, grandson Chris and great grandson Jameson.
He was a hard working man, a firm believer in God, loved his family, very kind and loved telling funny stories.
He went to be with the Lord on February 22, 2018