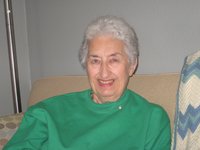 Dorothy S. Armstrong
Dorothy Armstrong, 87, of Las Vegas, Nevada, passed away on February 22, 2018 in Thousand Oaks, California.
Funeral service will be held at St. Rose of Lima Catholic Church, 1305 Royal Ave, Simi Valley, CA on March 1, 2018 at 10:00 a.m. Burial will follow at Assumption Cemetery, 1380 Fitzgerald Rd, Simi Valley, CA.
Dorothy was born in Cleveland, Ohio to John Soltes & Mary (Dulka) Soltes on November 9, 1930. She graduated from John Hay High School in 1948. She was a homemaker for 65 years. Her life was her family. She enjoyed being with her family and friends, playing bridge, bingo, reading and spending time in the sun.
Dorothy is survived by her brother, William Soltes; son, John Armstrong; daughter, Beverley Blau; son, Mark Armstrong; daughter, Susan Armstrong; daughter, Nancy O'Hara; and her grandchildren.
She is preceded in death by her husband, Edward (Ausprunk) Armstrong; son, Erik Armstrong; brother, John Soltes; and sister, Mary Lou Nemeth.