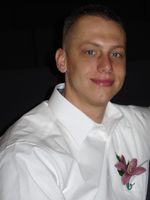 Kevin Michael Long
Kevin M. Long died unexpectedly and went to be with the Lord on February 20, 2018 at the age of 37.
Kevin was born on August 22, 1980 in Tarzana, California. He attended Heritage Christian School and then graduated from Granada Hills High School. He continued his education at California State University - Northridge and graduated with a degree in Communications. He was currently working as an Installation Project Manager for Installation Source.
Kevin enjoyed fishing, camping and rafting. He also enjoyed razzing his sister Carianne and coming to North Dakota to hang out with his brother Jeff and Melissa and nephew Charlie and niece Kendall.
Kevin was a willing and energetic worker with a great work ethic. He was also very kind and thoughtful. Kevin was loyal and traditional and had a great sense of humor.
Kevin is survived by his parents, Hal and Lorraine Long; his brother, Jeff (Melissa) Long; his sister, Carianne Long; his nephew and niece, Charlie and Kendall Long.
We will be having a Celebration of Kevin's life at 11:00 Saturday, March 3, 2018 in the Chapel at Heritage (formerly Hillcrest) Christian School, located at 17531 Rinaldi Street (Corner of Rinaldi and Shoshone) Northridge California, 91344.
In lieu of flowers we ask that donations be made in Kevin's name, to The Kevin Long Memorial Fund at Heritage Christian School. https://www.heritage-schools.org/donate/
Reception to follow at the Long residence.