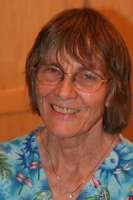 Arlene Torst
Arlene Thalman Torst passed away on February 28, 2018 at her home in Simi Valley. Arlene was born September 30, 1937 in Culver City, California. She is survived by her husband of 60 years, Richard Torst, and seven children, Debbie Moore (Gary), Robert Torst, Elizabeth Jones, Matthew Torst (Tanya), Jennifer Herr (Robert), Mary Torst, and Susan Bautista (Gary). She is also survived by 26 Grandchildren and 8 Great Grandchildren. Arlene was a faithful member of the Church of Jesus Christ of Latter-day Saints. She was a very intelligent woman who loved to write poetry, so to honor her love we dedicate this to her.
"The time has come for me to leave my precious gifts behind…..The sounds of music that filled my ears and heart…..My hands that made my children's clothes and quilts to bring them warmth from the cold.... My arms that held many close and wiped away their sorrows…..My eyes that looked upon the smiles and enhanced my love for words…..My legs that walked me through this earth and gave me strengthen to wonder….. These gifts I leave for those that follow and carry me in their hearts….. I am loved by my beautiful family…..Seven of my own….For my sweet Richard…..it won't be long until I see you again. With open arms I will run to you, to continue our Eternal journey. There were many things beyond my control, yet in the end 'IT IS WHAT IT IS."
Services will be held Monday, March 5, 2018 at the LDS church located at 1276 Erringer Rd. Simi Valley, 10am visitation and funeral service at 11am. Burial to follow at the El Rancho Simi Pioneer Cemetery 1461 Thompson Ln.