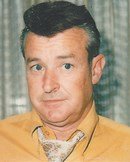 Gerald Gordon Finney
GERALD GORDON FINNEY
Age 87, passed away on March 24th, 2018. Known as "Jerry" throughout his life, the deceased had a great influence and impact on many people he encountered, whether it was during his career in the entertainment industry or in his personal life.
One of Jerry's first industry related jobs was in the early 60s working as an engineer at the CBS affiliated station, KNXT, in Los Angeles. His skills, drive, and dedication propelled him up the ladder to an executive position managing hundreds of employees. Jerry spent the last part of his career at Television City in Hollywood, eventually retiring after working over three decades with CBS.
Jerry grew up in Fresno, California, where he obtained a B.A. degree at Fresno State. He served in the military during the Korean War. In 1967 he settled in Simi Valley where he spent the rest of his life raising a family of five children. Jerry's wife of over 50 years, Cecilia J Finney, passed away in 2016. The two are survived by four children, Karen Kamaka, Richard Finney, Kevin Finney, Derek Finney; five grandchildren, Jermaine Kamaka, Rachel Finney, Emily Finney, Olivia Finney, Owen Finney; and two great grandchildren, Gabriel Kamaka and Hakela Kamaka.
There will be an open viewing Saturday, April 7th, from 10:00 to 11:00 a.m., followed by a service at Rose Family Funeral Home, 4444 Cochran Street, Simi Valley, CA. A reception after the service will be held at 2331 Welcome Court, Simi Valley, CA.