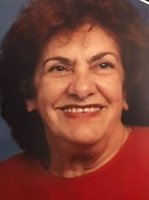 Lydia "Lily" Caridi De Herrera
Lydia "Lily" Caridi De Herrera, 88, of Simi Valley, CA, passed away peacefully surrounded by her loved ones, on April 3rd 2018 in her home.
Funeral service will be held at Rose Family Funeral Home on April 13th at 12:00 Noon. 4444 cochran St. Simi Valley CA 93063. Burial will follow after service at Pierce Brothers Valhalla Memorial Park, 10621 Victory Blvd. North Hollywood, CA. 91606. Reception immediately after at the home of Lydia Pepito.
Lydia was born in Guatemala to Angela Rimola Grisolia and Antonio Caridi Carroso on July 31, 1929. While on this earth she loved and followed Jesus Christ . Her favorite foods were chocolates and cookies not to mention those Guatemalan tamales and black bean soup. Born from two Italians we most mention she made some delicious pasta. She enjoyed music, singing and dancing since she was a child. She enjoyed traveling back and forth to Guatemala and spending time with her kids, grandchildren and great grandchildren.
Lydia is survived by her four children (Lydia, Rudy, Cecy and Morris), five grandchildren and nine great grandchildren. She is preceded in death by her husband, Frank, her parents and her three sisters and brother.