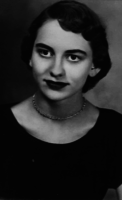 LaRee Ann Johnson
My beautiful wife, LaRee Ann Johnson decided on April 8, 2018 to go home to be with Jesus and to be reunited with all her kin, friends, kitties and puppies who have gone before her.
LaRee was born in Belleville, Kansas on July 9, 1936 to her parents George and Sylvia Leshosky. She was raised on a farm where she treated all the farm animals as her pets.
She attended Kansas State University, married and had two daughters, Melanie and Kathryn. LaRee later remarried Ron Johnson and they celebrated 44 years of marriage. She was a professional manicurist in Simi Valley, California for over 30 years.
As loving wife, mother, grandmother, and great grandmother and friend to many, she will be truly missed.
Her family will feel the huge void that she leaves.
A memorial service will be held at Rose Family Funeral Home, 4444 Cochran St., Simi Valley, CA 93063 on Wednesday, April 18, 2018 at 11:00 A.M.
Ron Johnson, husband
Simi Valley, California