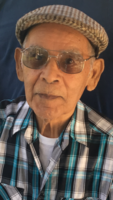 Ernest Arriaga
Ernest Arriaga Sr, 90, of Simi Valley, CA passed away on October 14, 2019 in the presence of family members.
Ernest was born in Wichita, Kansas to Lawrence and Leonor on February 6, 1929. He worked as a machinist in the aerospace industry for thirty-six years and received many commendations as a member of space shuttle teams.
Ernest is preceded in death by his wife, Lucila Arriaga. He is survived by his four children, Thomas Arriaga, Cynthia Deybarrondo, Louise Bravo, and Ernest Arriaga Jr, as well as sixteen grandchildren, thirty-eight great grandchildren, and six great, great grandchildren.
Visitation and memorial service will be held at Rose Family Funeral Home on Saturday, October 26th.