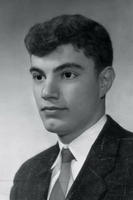 Dennis Henry "Denny" LaFreniere
Dennis Henry LaFreniere passed away on April 19,2021 after a courageous five-year battle to recover from a devastating stroke. He is survived by his wife Lai Ming, who so lovingly cared for him and never left his side in these years.
After serving in the Navy, Denny earned an Engineering Degree from John Hopkins University. He was passionate about his chosen career field and very proud of his body of work. He had a sharp mind and could be found working advanced math problems for his later years to keep sharp.
He had had a soft spot for animals and loved camping and fishing with his sons. Sailing, boxing and poker were his other great loved and even when he lost the ability to walk and talk, he could still play poker!
He will be greatly missed by his loved ones and his children and grandchildren will honor his legacy by working hard and living their lives to the fullest.
A memorial service in his honor will be held on Friday, April 30, 2021 from 4-6pm at Rose Family Funeral Home.