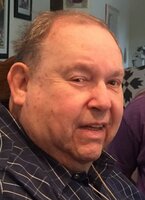 Paul Sapoznik
Paul Sapoznik, 85, of Chatsworth, California passed away peacefully on October 21, 2021, one day after his 85th birthday. Paul was born on October 20, 1936, to Pauline and Ralph Sapoznik in Chicago, Illinois. His mother died in childbirth, and his dad died of cancer when he was 6 years old. He was then sent to live with relatives in Los Angeles and was eventually adopted by Rebecca Gordon. After he graduated from Fairfax High School, he entered college at University of California, Berkeley. He ultimately graduated from California State University, Los Angeles with a B.S Degree in health and physical education. Subsequently, he earned a teaching credential.
An educator by nature and training, long before diversity, equity and inclusion were a thing, Paul practiced it while teaching math at a Los Angeles Unified School District elementary school in Watts, California, including during the time of the infamous riots. He connected well with his students, and they probably did not know that growing up he shared a similar story with many of his students that faced challenges and poverty. He moved up the ranks with LAUSD to an administrative role before tapping into his entrepreneurial spirit while maintaining his love of numbers by transitioning to full-time tax expert and financial planner at his own company. He had a very successful tax business for many years and served as a business manager for an Academy Award-nominated actress.
Always the educator, he was instrumental in forming a private school in Chatsworth, NSPC, that continues to offer excellent education for kids to this day. Paul loved intertwining education and games. He was the type to test kids with algebra, complex word problems, and riddles. He also loved sports and was a huge fan of the Los Angeles Dodgers and Los Angeles Lakers. From tennis to baseball, he coached and played a variety of sports with his four kids. He adored his only grandchild, Sammy, who brought him much joy.
He is survived by his wife Judy Sapoznik; children Marc Sapoznik, Randy Sapoznik, Stephanie Lopez, and Sheldon Sapoznik; granddaughter Samantha Sapoznik; daughters-in-law Amy Aufdemberge and Melissa McCrossen; and son-in-law Michael Lopez. He will be dearly missed.
There are no events planned, as he did not wish to have services. In lieu of flowers, Chatsworth Junior Baseball League is accepting donations in Paul's name. Checks can be sent to: