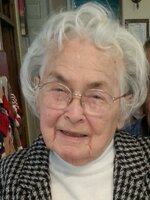 Vivian Mae Schwagerl
VIVIAN MAE SCHWAGERL, 93, OF SIMI VALLEY, CALIFORNIA PASSED AWAY ON OCTOBER 27, 2021, SURROUNDED BY HER LOVING FAMILY.
FUNERAL SERVICE WILL BE HELD AT ROSE FAMILY FUNERAL HOME ON NOVEMBER 20, 2021 AT 11:30AM WITH FATHER SHEA OF ST. ROSE OF LIMA OFFICIATING. BURIAL WILL FOLLOW AT ASSUMPTION CATHOLIC CEMETERY IN SIMI VALLEY, CA.
ROSE FAMILY FUNERAL HOME WILL BE HANDLING THE FUNERAL ARRANGEMENTS.
VIV WAS BORN IN MINNESOTA TO ELMER AND EMMA CHRISTENSON ON FEBRUARY 14, 1928, THE NINTH OF NINE CHILDREN. SHE WENT TO HIGH SCHOOL AT MONTEVIDEO HIGH SCHOOL AND GRADUATED IN 1943. AT THE AGE OF 16, SHE VENTURED TO CALIFORNIA AND ATTENDED THE UNIVERSITY OF SOUTHERN CALIFORNIA TO PURSUE A DEGREE IN SCIENCE AND MATH. VIV LOVED TO TRAVEL AND HAD MANY EXCITING ADVENTURES, ESPECIALLY TO THE HOLY LAND. SHE ENJOYED DANCING, PLAYING CARDS, GOLFING, AND THE VIOLIN. HER FAITH WAS VERY IMPORTANT TO HER.
SHE IS SURVIVED BY HER SIX CHILDREN PEGGY (JOHN), JOHN (CHERYL), DAVID (PAM), MARY (BUTCH), JULIE (RON) AND JO (AL); 29 GRANDCHILDREN TOM (SUZIE), MARNI, TIM (LINDSEY), ANDREW, KRISTEN, CORRIE (BRANDON), MATT (BRITTANY), ANNIE (CHRIS), CLAIRE (SHAWN), SALLY ( JENNY), EMMA, SARAH (MIKE), JASON (SONYA), JENNY (IZZY), RANDY, NIKKI, JONI (SOPHIE) AND ERIC; AND 18 GREAT GRANDCHILDREN, SYDNEY, LUKE, CARLY, DILYNN, PRESLEY, LENNON, ZACHARY, ABIGAIL, ORRIN, JENNA, GREYSEN, BRODY, OWEN, MADALYN, MAX, CHARLEE, NICHOLAS AND PAXTON. VIV HAD A LARGE EXTENDED FAMILY OF NUMEROUS GENERATIONS, AND A LIST OF FRIENDS, ALL WHO SHE HELD CLOSE TO HER HEART. SHE IS PRECEDED IN DEATH BY HER HUSBAND OF 72 YEARS, JAMES SCHWAGERL, HER PARENTS, ELMER AND EMMA CHRISTENSON, HER TWO BROTHERS AND SIX SISTERS.
VIV WAS A DEVOTED WIFE, MOTHER, GRANDMOTHER, AND GREAT GRANDMOTHER. SHE LOVED GOD AND HER FAMILY AND WAS PASSIONATE ABOUT BOTH. SHE WILL BE GREATLY MISSED AND WILL REMAIN FOREVER IN OUR HEARTS.