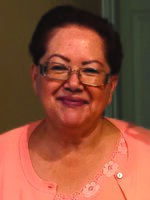 Lilia Angelica Chavez
Lilia Chavez 76, of Moorpark, CA, passed away peacefully on November 20.2021.
Lilia Chavez was born in Jacona, Michoacan to Luis and Teresa Linares on August 6, 1945. She always loved life and had lots of fun doing it. She enjoyed being around her grandkids, great grandkids, also going to Las Vegas and spending lots of time with the family. She loved to dance, everything was always a party for her with a great big smile on her face.
She is survived by her Husband Jesus Chavez, Son Frank Ramos, Daughter Veronica Paredes and Daughter Alejandra Carpio. 10 Grandkids and 4 Great grandkids, 1 daughter in-law, 2 son in-laws, 4 Sisters.
Lilia passed away surrounded by her family. She was a very loved mom, grandma, great grandmother, sister, aunt and friend. Who will be greatly missed, and she leaves behind many warm memories that we will cherish forever.