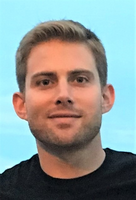 Spencer Quinn Cosby
Our beloved Spencer died too young at 32. Spencer was passionate about music, snowboarding, golf, hoops and fitness. At the time of his passing, he was working as a personal fitness trainer at Equinox in Westlake Village. He was an avid UFC, Lakers and, more recently, Rams fan. He loved his family and friends, as well as his recovery and church communities. We will all miss his magnetic charm, his abundant sense of humor, his intelligence, his unique and infectious personality, and his warm fellowship; most of all we will just plain miss him - and love him - as long as we live.
Spencer is survived by his parents, Chris and Sharon Cosby, of Woodland Hills, his sister, Nina Eastman, and brother-in-law, Wyatt Eastman, of Santa Clarita, his niece, Reagan Eastman, and his nephews, Miles Eastman and Nolan Eastman.
A funeral service will be held on January 7 at the Oakwood Memorial Park and Cemetery.