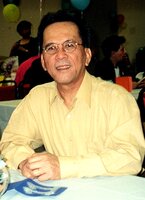 Oscar Mendoza Lopez
Oscar Mendoza Lopez, 75, of Moorpark, California, passed away at the Adventist Health in Simi Valley, California on July 31, 2022.
Visitation and Funeral Service will be held at Rose Family Funeral Home (4444 Cochran St, Simi Valley, CA 93063) on Sunday, August 14th, 2022 from 12 pm to 5 pm. Rose Family Funeral Home will be handling the funeral arrangements.
Oscar was born in Batangas, Philippines to Graciano Lopez and Damiana Mendoza on January 20, 1947. He is survived by his wife, Teresita Lopez; daughter, Ana Therese Lopez; son, Kevin Lopez; and siblings, Lino Lopez, Lydia Sibal, Jovita Amada, and Perla Conti.
In lieu of flowers, please make contributions in his memory to the following non-profit organizations:
Glaucoma Research Foundation
251 Post Street Suite 600
San Francisco, CA 94108
or online https://getinvolved.glaucoma.org/donate
Dementia Society of America
PO Box 600
Doylestown, PA 18901
or online https://www.dementiasociety.org/donate