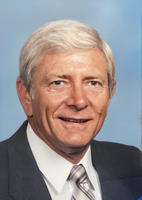 Robert Eugene Maine
Our beloved Robert "Bob" Maine went to Heaven on December 15, 2022, at the age of 87. He was born in Coronado, California on July 13, 1935, to Minnie Ruth and Henry Elmer Maine. During his youth, he lived in different areas of San Diego and then moved to Los Angeles and attended University High School where he graduated in 1953.
Bob married Meta Hoffer after High School, and they had children Pamela and Greg. He was married a second time to Sonja Pearson whom he met on a blind date, and they were married 52 years up until his departure, and they had children Joy and Bill.
Bob started his career as a carpenter and was a general contractor for over 50 years. He was an avid outdoorsmen, snow and water skier, fisherman and loved to travel in his younger years. He was a strong Christian all his life and even brought Sonja to the Lord in 1967, the year that they met.
A man of great faith and integrity, Bob a was a pillar of strength for so many. His family was the light of his life and his biggest accomplishment, and he truly adored his children, grandchildren, and great-grandchildren. He will be deeply missed.
Bob is survived by his wife Sonny; children Pam, Greg, Joy, and Bill, grandchildren, Carly, Hope, Holly, Lillee, Samantha and Bobby, great-grandchildren Owen, Stella and Troy, daughters-in-law Kristi Maine and Shellee Maine and grandson-in-law Gregg Sarbak.