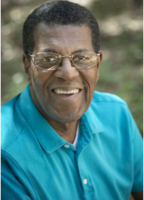 Edward Savage
Edward Savage was called home, surrounded by his closest friends and loved ones on May 21, 2018, after a long battle with cancer. He is survived by his best friend and wife of 58 years, Hazel, his sons David and Christopher, his daughter Angela, and his five grandchildren, Dominique, Alexandria, Chante, Gabriella, and Hailey.
Ed was born on September 15, 1934, in Philadelphia, Pennsylvania, to George and Pearl Savage. He was the fourth of 11 children, sisters Elaine, Doris, Edna, Bernice, Celeste, Evelyn, Margie and brothers George, Leon, and Jerry. After high school, he proudly served in the U.S. Army. He later married Hazel Alston and, together, they had three children. In 1979, he moved his family to Thousand Oaks, California, where he became a dedicated community member, serving his city with pride. He was passionate about local and national politics and volunteered his time as a coach and mentor. He was called "Dad" by more people than he could count. Ed's infectious smile and magnetic personality made it hard not to strike up a conversation with him. Throughout his life Ed wore many hats. Before retiring as a manager, he was a professional photographer and worked in numerous occupations in-between, taking great pride in every job he had.
Ed was a devoted husband and father, always giving plenty of love and affection to his​ ​loved ones. He had thousands of friends around town and the globe. He was a passionate​ ​correspondent and often called to check in on people. He will be greatly missed.
Services will be held at California Community Church, 30125 Agoura Road in Agoura Hills, California, on June 2, 2018, at 11 a.m.