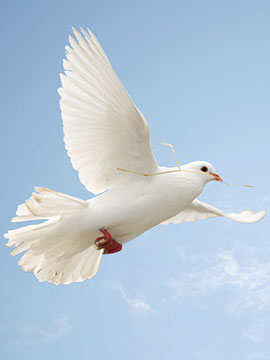 Obituary of Eldona L. Stirling
Eldona Stirling was born on January 3rd 1928 in Rockville, Utah to Alma and Henrietta DeMille, and died at home in Lake Balboa, CA. on July, 23 2018. Although monetary wealth was not abundant during her childhood, she enjoyed a rich life in the scenic Western town of Rockville, visiting Zion National Park, swimming in the Virgin River and learning the lessons of hard work, honesty and other old-world values from her parents and siblings.
Eldona attended Hurricane High School and was a popular student amongst her peers and teachers. She earned good grades and was regarded as one of the most attractive girls on campus. Many of her male contemporaries have confessed that they had a crush on her. Her school sweetheart, Brent, however, was the big winner and married her shortly after high school and then they moved to California to begin their lives together. They had two children, Kelly and Dennis and purchased a home in Van Nuys (now called Lake Balboa) where they raised their family. They were members of the Encino Ward of the LDS Church and formed many friendships with members of that congregation.
Eldona was a caring mother, a first-rate homemaker, enjoyed collecting and refinishing antique furniture, and reading colorful novels. She was also an affable gal that enjoyed socializing with her family and friends. She was known for telling an occasional whopper story that some say were somewhat exaggerated, but she always got a few laughs. She had an uncanny ability to connect with kids and pets. They could all intuitively sense her good heart and bonded quickly. Our family dog, a beagle named Tuffy, was notorious for biting everyone in the family except Eldona. He never even flashed his teeth at her!
Eldona is survived by her two sons, Kelly (Kathy) Stirling, Dennis (Teri) Stirling, 6 grandkids, Dan, Shaun, Karly, Jennifer, Chris and Katie (and their spouses), and 17 great-grand kids. She is also survived by her brother, Rod DeMille. Her husband Brent, parents and five siblings preceded her in death. A graveside service will be held at Oakwood Cemetery in Chatsworth on Monday, July 30, 2018 at 10:00AM. The family would like to thank the staff at Buena Vista Hospice for their service in caring for Eldona the last few weeks.
We are thankful for Eldona's legacy of decency and kindheartedness that graced this earth for over 90 years. Love you forever!