---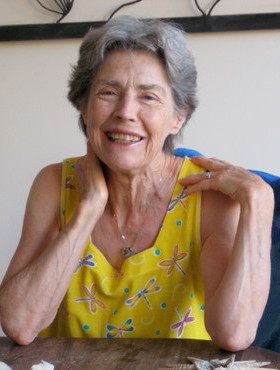 Obituary of Betty Helen Doria
Betty Helen Kortebein was born to Rudy and Ormel Kortebein on October 27, 1929, in Manitowoc, Wisconsin. (She actually had the honor of being delivered by her own grandfather, Dr. A.J. Shimek.) She was raised in Milwaukee, Wisconsin in the midst of a large and loving family of seven children. She said that the hallmark of her family was that they enjoyed each other's company, were proud of each other, and always wanted to stay in touch. This family legacy was very important to her, and she was always known for her graciousness, kindness, and friendliness by all who knew her throughout her life. She greatly enjoyed seeing her friends, and always loved spending time with her family (the more the merrier.)
She graduated from Riverside High School, and then she attended Mount Mary College in Milwaukee to become a teacher. When she was in college, she met Carl Doria on a blind date in 1948. (Betty remembered that Carl had to give the car a good push to get it started.) They were married on December 27, 1951, a "mild" Milwaukee winter day (15 degrees). She taught school for a year in the area. When Carl graduated from medical school, they moved to French Camp, California for him to do his internship, and later moved to Southern California, where she lived the rest of her life.
Betty was a vibrant person. She joined into all family activities with enthusiasm. It didn't matter whether it was bocce ball, playing tennis in her 70s, or cheering on the Green Bay Packers. She was a loving wife and mother, and was very active in her parish church and her community in Westlake Village, California, where she lived for the last 50 years of her life. Her faith in God was very important to her, and she said that she hoped it would continue in her children, her grandchildren, and the generations to come. She passed away on July 5, 2021, and is in the presence of her Savior Jesus.
She was predeceased by her husband, Dr. Carl Doria in 2001. She is survived by her 5 children: Thomas Doria, James Doria, Jane Lindberg, Nancy Sadler, and David Doria; their spouses; and 14 grandchildren and one brand-new great grandchild, who all will greatly miss her loving presence.
Services will be on Saturday, July 17, 2021 at St. Jude's Catholic Church, 32032 Lindero Canyon Road, Westlake Village, California at 1 pm.
Share Your Memory of
Betty
who we are

Rose Family Funeral Home is a family owned and operated business. With kind, caring and capable staff, we take pride in the way we interact with our families and their loved ones. Rest easy knowing that at Rose Family Funeral Home, you'll be treated just like family.
Office hours
Mon: 9am - 5pm
Tue: 9am - 5pm
Wed: 9am - 5pm
Thu: 9am - 5pm
Fri: 9am - 5pm
Sat: 9am-5pm
​​Sun: Closed

location

4444 Cochran Street
Simi Valley, CA 93063
(805) 581-3800
Licence Number: FD 1760